AV Sponsor: Projection Presentation Technology
Posted by
roxanne
on Oct 2, 2008 in
Featured
,
Premium Sponsors
•
2 comments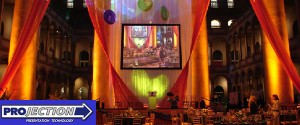 We have an incredible opportunity here with Projection Presentation Technology. They have offered to handle all of our audio-visual services in exchange for a sponsorship. The entire package, of screens, projectors, microphones, and audio recording. For us - the team of all volunteers who are creating this conference in our extra time after day job and family responsibilities, this is a huge gift!
It is quite amazing to me how the business community has rallied around our event. To be sure, they are not only generous and community-minded, they see an opportunity to help grow our respective businesses as well. Not all businesses have the insight that requires. In addition, this is a company doing business at convention centers all across the United States. So please consider them regardless of where you are holding your next event!
They provide everything you can imagine - from complete setup and management to computer rentals, covering both equipment and services. You can read about their in-house services here.
Projection Presentation Technology offers total presentation management solutions for conventions, meetings and professional events. Projection services include: audio visual equipment, computers, custom stage designs, production management for General Sessions, digital signage, webcasting services, simultaneous interpretation and much more.

The

PRO

in Projection stands for

PROFESSIONAL

and represents the base upon which we conduct all of our relationships. The mission of Projection has been to provide top quality audio/visual solutions to our clients' communication goals. No matter the size or nature of your event, we can deliver personal service and expert insight and we welcome the opportunity to work with you.

At Projection there exists a culture and tradition of pride and commitment that our clients can sense, and which they have trusted for nearly forty years. We call it "The Projection Difference," and it is what has made us one of the largest privately owned audio/visual and computer rental companies in the country.
We are incredibly grateful for the sponsorship presence of Projection Presentation Technology. They've taken so much potential stress right off the table for us!
Previous Entry: Ohana Sponsor: mDialog
Next Entry: Aliʻi Sponsor: Johnson & Johnson