Venue Sponsor: Hawaii Convention Center
Posted by
roxanne
on Sep 12, 2008 in
Featured
,
Premium Sponsors
•
6 comments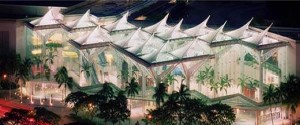 When we first started to think about Podcamp Hawaii, the choice of venue quickly became our most vexing challenge. Because Podcamp organizers do not get paid and do not make any profits, finding an affordable venue usually means asking for permission to use a school or community center. But we had big dreams and knew that people would likely be traveling from far away (and indeed we have attendees coming from the UK, Japan, China, and all across the mainland USA), we wanted to have much more than that:
Convenient location for locals and visitors alike.
First class facilities that enabled us to be techy without interruption.
Nearby rooms so we can network in the hallways as much as possible.
Available food service so attendees don't have to leave at lunch.
A place the conveys the beauty and culture of Hawaii.
It quickly became apparent that the Hawaii Convention Center was the only place that fit this wish list! Immediately we were discouraged by other organizers though because of the difficulty of paying for such a venue, when the attendees would be also be coming for free. Enter June Matsumoto, our contact at HCC. She immediately could envision the deep and wide value of hosting a conference of media makers and thought leaders.
June knows how much we are and will be promoting her center and the state of Hawaii - all without a contract or requirement to perform these services. She truly understands that especially when times are tough, if we all pull together and contribute what we can, there is a big gain waiting for everyone. She especially values the opportunity that we are creating together for the businesses of Hawaii to learn about the social web and to promote their organizations far and wide.
We thank the Hawaii Convention Center for supporting us through their partial subsidy of our rental fees, making it possible for our event to be held in this jewel of a location. We are doing our best to live up to it in every way.
From the Hawaii Convention Center web site:
The Hawaiʻi Convention Center combines the modern requirements of a state-of-the-art meeting facility with the beauty, comfort and culture that are uniquely Hawaiʻi. Soaring forms and breathtaking space call to mind tropical palm trees and Polynesian sailing canoes. The design of the glass-front center represents the unique culture of Hawaiʻi, with its bold architecture, $2 million Hawaiian art collection, and features such as a rooftop tropical garden, glass-encased meeting rooms and outdoor function spaces lined with giant palm trees.
Photo courtesy of the Hawaii Convention Center
Previous Entry: Hotel Sponsor: Wyland Waikiki Hotel
Next Entry: Venue Sponsor: Hawaii Visitors & Convention Bureau