Venue Sponsor: Hawaii Visitors & Convention Bureau
Posted by
roxanne
on Sep 13, 2008 in
Featured
,
Premium Sponsors
,
Travel
•
3 comments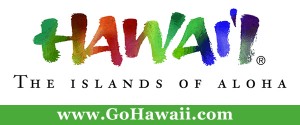 The HVCB as we call them here for short, are the people who make Hawaii tourism happen. With a membership of over 1000 Hawaii-based businesses, they cover everything you would want and expect from lodging, to outdoor activities, to nightlife.
The members of the Hawaii Visitors and Convention Bureau share one goal: to help you create a vacation to be remembered here in the islands of Aloha.
Here is just a small sample of the travel planning options available to you on the HVCB's flagship website, www.GoHawaii.com:
* Decide which island to visit (How many are there, by the way?)
* Learn about major upcoming cusltural and sporting events
* Favorite spots for Families and Honeymooners
* Review hundreds of lodging and dining choices
* Search for the specific types of things you want on each island
* Create and account and save your favorites as you explore the many possibilities
* Download your Free Hawaii Vacation Planner
We especially recommend their Frequently Asked Questions page if this is your first time coming to Hawaii. Even if it's not, scroll down this page to find a link to send your friends an hula video post card! It's a cool virtual version of magnetic poetry combined with the music and dance of hula. Please send send us one ([email protected]) and tell us when you are scheduled to arrive!
Previous Entry: Venue Sponsor: Hawaii Convention Center
Next Entry: Hotel Sponsor: Hawaii Prince Hotel