'Ohana Sponsor – Blue Hawaii Lifestyle
Posted by
judi
on Oct 13, 2008 in
ʻOhana Sponsors
•
No comments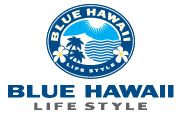 It's not enough to feed our minds. We must also feed our bodies.
Our communities are based on strong and healthy families and friends. Blue Hawaii Lifestyle reminds us that we can do good at the same time as eating well. We are thrilled that Blue Hawaii Lifestyle has joined us as an ʻOhana Sponsor.
Blue Hawaii LifeStyle is dedicated to promoting the healthy, active lifestyle found in Hawaii. Whether bath and body, food and drink, nutrition, books and music or fresh espresso, acai bowls, tea and pleasant smoothies from our bar, the products we sell are made using simple and, whenever possible, Hawaii-grown ingredients. Our commitment to health and wellness extends beyond our products. All of

BHL

ʻs give-away items are compostable or recyclable. Cups and utensils may look like petro-based plastic, but are actually corn-derived and ready to go back to mother earth. Look down, and you'll see flooring made from earth-friendly cork and sealed with a coating derived from plants, not crude.
Previous Entry: Our Volunteers (Thanks!)
Next Entry: ʻOhana Sponsor – KnowHowCafe