Geek Week Events Oct 18-25
Posted by
roxanne
on Oct 6, 2008 in
Blogging
,
Updates
•
4 comments
We've got over 150 people registered for Podcamp + Wordcamp Hawaii, but now and then we hear of someone who is going to be unavailable for the event. Not to worry! There are several other geek happenings you can attend in the coming weeks and months that will be covering similar topics.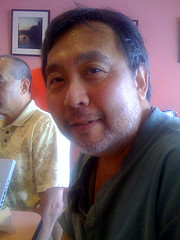 First let's start with the special Proclamation from Governor Lingle. Just look at the list of events on this page - it's enough to merit a special proclamation by the Governor of Hawaii declaring October 18 to 25, 2008 as Hawaii Geek Week (PDF of the application that has been approved).
We would like to give special thanks to HMAUS Secretary and Ambassador Eugene Villaluz who conceived of and executed this wonderful idea. Mahalo nui Eugene for including Podcamp + Wordcamp Hawaii in your proclamation. (Photo by Hawaii on Flickr.)
Mactoberfest
Saturday, October 18, 2008
A free annual event hosted by HMAUS (Hawaii Macintosh and Apple Users Society)
There will be several guest speakers plus a Buy and Sell table for computer gear, co-hosted by the Professional Photographers of Hawaii and the Pacific New Media Center at UH.
www.hmaus.com
Web Weavers Workshop
Wednesday, October 22, 2008
Featuring the 'Queen of WordPress' Lorelle VanFossen
www.hmaus.com
Social Media Club Workshop
Thursday, October 23, 2008
Featuring Social Media Experts Chris Heuer and Kristie Wells from San Francisco, Beth Kanter from Boston, and Roxanne Darling from Honolulu.
www.socialmediaworkshop.com
Windward Community Tech Fair
Workshops and Exhibits on topics such as Google Docs, Digital Workflow for Educators, & iChat Video Conferencing
ocet.wcc.hawaii.edu/techtalk/
Unconferenz II
Saturday, January 31, 2009
Hosted by Burt Lum of Bytemarks Cafe
www.unconferenz.com
I just learned about the Hawaii Geek Week blog being developed by Mark McMahon of Hawaii Web Consulting; there's more information over there too.
P.S. All community organizations are welcome to put out their organization flyers on our free nonprofit outreach table.
Previous Entry: Title Sponsor: Road Runner High Speed Internet
Next Entry: Podcamp on TV: Watch Our Commercial!