First Podcamp Hawaii T-Shirt Sighting!
Posted by
roxanne
on Sep 5, 2008 in
Updates
•
No comments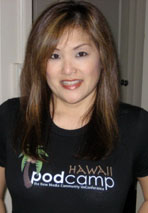 How fitting and lucky for us that the very first report is submitted by the oh-so-fashionable femme, Gail Shiraishi, aka @spldrttngrl. (That's shorthand for "spoiled rotten girl" and I can tell you from first hand experience she is the complete opposite of that!)
Please send us your photos. One of these days when we catch our breath we'll come up with something fun to do with the pics. Or maybe you have an idea for us?
Remember, you do not need to be attending to get you very own t-shirt. Just click on the "Shop" tab above or visit our page over at Spreadshirt.
Previous Entry: We Need Your Help!
Next Entry: Hotel Sponsor: Wyland Waikiki Hotel