AUDIO: Rox Interview with Burt Lum of Bytemarks Cafe
Posted by
rshaner
on Sep 1, 2008 in
Audio
,
Updates
•
2 comments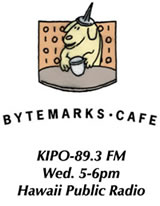 Burt Lum, Neenz Faleafine, and I did an off the cuff phone interview recently and Burt generously shared the audio file with us. Give a listen to get a quick overview "all about podcamp." It's not that easy for people to understand what this event is all about! It's about 11 minutes short!
[audio:https://2008.podcamphawaii.com/audio/talkshoe-podcamp-2008.mp3]
Then on this coming Wednesday, September 3, Podcamp volunteer and Sponsor Todd Cochrane and I wil be live in studio with Burt and Ryan Ozawa on Bytemarks Cafe. You can listen on the radio and usually catch a video stream too. The radio show runs every Wednesday on Hawaii Public Radio from 5-6pm in the afternoon. Please tune in to KIPO - 89.3 FM and catch the latest happenings in the tech world with a distinctively Hawaii-centric perspective or catch it in iTunes.
Previous Entry: Update from the Volunteers Meetup on August 30
Next Entry: We Need Your Help!