Kamaʻaina Sponsor – PacRim Marketing
Posted by
judi
on Oct 5, 2008 in
Kamaʻaina Sponsors
•
4 comments

We are delighted to have the PacRim Marketing companies join us as a Kamaʻaina Sponsor. Please check out their sites and Podcast links!
PacRim Marketing Group, Inc. is an international marketing firm dedicated to connecting clients with Pacific Rim markets through integrated, multicultural marketing solutions. They are innovators in developing Hawaii tourism in the Asian market, and have been using podcasts successfully. Ceo Dave Erdman and Sales Manager Brian Newman will be sharing their expertise as speakers on Saturday, October 25th at Podcamp.
About Official Hawaii Podcast: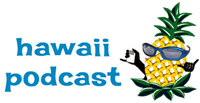 The Official Hawaii Podcast is the most popular travel related podcast in Japanese on iTunes. Launched in August 2007 by Orbitune, Inc., Nickong Enterprises, Inc., and PacRim Marketing Group, Inc., the Podcast can be downloaded from www.hawaiipodcast.jp/, the primary portal to the Official Hawaii Podcast, or from links found on the Hawaii No Arukikata website, the largest Japanese commercial web site about Hawaii, which receives 2.8 million views per month. New episodes of the Official Hawaii Podcast are available every Friday morning at 6 o'clock Japan time and Thursday mornings at 11 o'clock, Hawaii Standard Time. Subscribers receive a download automatically. All downloads of the Official Hawaii Podcast are free of charge and work on all platforms.
Innovative and popular content includes Tips for Ukulele by Herb Ota Jr., Angela Maki's marathon reports, Hawaiian Fire surf tips, Hawaiian Gourmet dining reports, and musical features, which have included interviews with Amy Hanaiali'i, Raiatea, John Cruz, Brothers Cazimero and more. Celebrities such as Roy Yamaguchi and Malani Bilyeu have also appeared. The Podcast is hosted by Akira Okada, a popular Japanese radio personality in Tokyo, and Yuki Hata, also popular with Japanese FM audiences. Most of the music is provided by Mountain Apple Company, in partnership with Official Hawaii Podcast owners.
About PacRim Marketing Group, Inc.:
PacRim Marketing Group (started in 1990) and its related companies—PRTech and PacRim Marketing Tokyo KK—offer integrated marketing solutions using the latest technology, as well as traditional public relations and marketing services, to help clients connect with Asia Pacific markets. PacRim Marketing Group owns Hawaii No Arukikata, the largest commercial website about Hawaii in Japanese, which receives 2.8 million views per month, and now the Korean web portal: www.myhawaii.kr. PacRim also is a partner in the Official Hawaii Podcast, a weekly, 20-minute audio show recorded in Japanese and downloadable on computers, cell phones, and other digital palm devices for free at www.hawaii-podcast.jp, and has interest in multiple new media ventures. For more information, go to www.pacrimmarketing.com.
About PRTech:


Started in 2003, PRTech is one of Hawaii's "Fastest 50" firms. The award winning company offers multilingual IT solutions to help businesses reach Asia Pacific markets. Services include customer relationship management, website design and optimization, e-marketing intelligence, online reservations systems, e-commerce shopping carts and more. PRTech is the owner of the innovative, bi-lingual reservation booking system, MyRez 2.0 (now available in Japanese-English; Korean-English, and in simplified and traditional Chinese-English). For more information, go to www.PRTech.com
Previous Entry: A Sneak Peak at the Hawaii Convention Center
Next Entry: ʻOhana Sponsor – blip.tv