I Love the Hawaii Convention Center
Posted by
roxanne
on Jul 16, 2008 in
Updates
•
No comments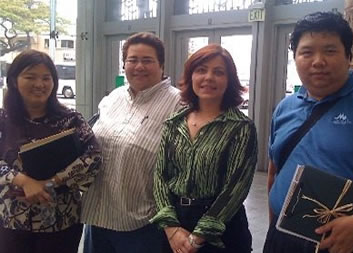 We had a meeting today with June Matsumoto and Brian Allen at the Hawaii Convention Center. They are extending such a gracious hand to our podcamp! Other organizers have told me, "steer clear of hotels and conventions centers - they are too expensive and hard to deal with." Nonetheless, this is Hawaii, and we do things differently here. We do business with Aloha.
June is wide-eyed with excitement about the possibilities new media and social web practitioners bring to the table. She wants us to be meeting in her space, telling our stories from there, and connecting with each other from all the Hawaiian Islands and perhaps even the world.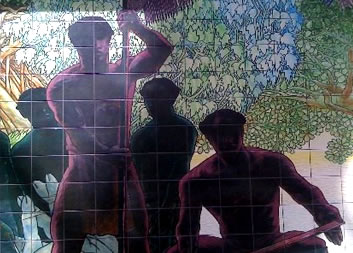 Other sponsors are coming forward too, before we have even put out the call or finalized our levels and pricing. Nathan Kam, VP at McNeil Wilson may have a hotel sponsor for our event. Todd Cochrane, of Geek News Central is offering all kinds of help, both on the ground organizing and also as a sponsor. People in state government, the private sector, educators, and of course our beloved geeks are all wanting to help create and attend this event. Burt Lum has booked us for his local radio talk show, Bytemarks Cafe September 3rd. Angela Keen, former KGMB news anchor and now working with The Limtiaco Company in PR, is doing amazing work behind the scenes. Shane Robinson, of Bare Feet Studios, has delivered us a gorgeous web site.
I think Neenz Faleafine, aka InfinityPro summed it up best:
The tour of the Convention Center, through the corridors, past Prince Kuhio's canoe, inside of the theater and then out to the patio with a beautiful view is what I needed to rejuvenate my spirit into making this happen.

HCC

is intrigued by new media, open to learning and know that "there's something there" in this "new media" stuff we keep evangelizing. It was the spark in June's eyes that was most encouraging. When we showed her the web site, it literally took her breath away!
Neenz also got this part right too: Blessings to Kyle whom keeps us girls from wala'au'g too much off topic.
Hawaiian Word of the Day:
"Walaʻau:": to talk, speak
Previous Entry: Join Our Flickr Group
Next Entry: Fly American to Hawaii, Get 5000 Bonus Miles